TornadoCart Technology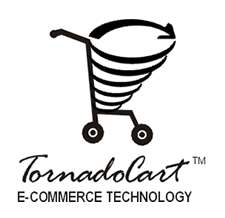 WE LOVE TEXAS Web Solutions has developed an on-line shopping cart software called TornadoCart which greatly enhances the ease with which on-line transactions are created and processed. This technology is exclusive to WE LOVE TEXAS Web Solutions.
TornadoCart technology allows you to get up and running in as little as five to ten days. This technology revolutionizes the web site buying experience by making it a quick, painless process for you.
With TornadoCart technology, you will be able to keep track of customers and product inventory, while site maintenance is made easier.
You will find that, due to TornadoCart technology, setup time for your shopping cart systems will be a fraction of that required by other companies. Finally your customers will find that the TornadoCart will allow easy checkout when purchasing products from you.